Marketing Health Insurance
REGENCE BLUECROSS
A series of white papers educates employers about the value of self-insured health benefits, value-based care and population health improvement.
Marketing health insurance to self-insured employers requires a unique understanding of the complex decision making that informs benefit selection, network design and population health strategy for these large groups. That's exactly why the stakeholder marketing team at Regence BlueCross BlueShield (a four-state health insurance plan serving members in Oregon, Washington, Idaho and Utah) partnered with Activate Health. Our agency has a strong background in marketing health insurance to employers of all sizes, along with knowledge of the trends and other factors that influence the selection of self-insured products. Most importantly, our ability to design a strategic, results-driven content marketing approach has proven time and again that we can help these large insurers drive, nurture and convert high-value leads into loyal customers.




This strategy began through extensive third-party research into industry trends that impact marketing health insurance to self-insured groups, as well as interviews with subject matter experts at this leading Blue Cross plan. Our team collected and analyzed extensive data from Regence's operations, sales and clinical teams, including results from its value-based care efforts and employer group surveys. We refer to the collection of all of these insights as our "Discovery Process," and it ensures that every marketing strategy and tactic we implement is targeted, results-oriented and aligned with the market environment and the client's unique goals.
Of course, marketing health insurance is more than just promotion of a product. It requires a content marketing approach that focuses on the most important factors influencing these significant investments by actual decision makers. In this initiative, these individuals included in-house HR, wellness and benefit staff members as well as representatives from third-party consulting firms. Our team leveraged our knowledge of these buyers and influencers, alongside the data collected in our Discovery Process, to develop a series of white papers that discussed industry best practices in self-funded health insurance, value-based care and population health improvement strategies. These topics are all top of mind for most large groups today as they look to control claims costs and improve outcomes for their employees.
Each white paper combined compelling third-party data and Regence results alongside charts and graphics that told the story at a glance, making it easy for busy benefits professionals to quickly get the information they need. As a result, Regence was able to use these white papers as a vehicle to capture and nurture leads, while educating prospects on the value of its consultative approach to health insurance benefits. In fact, this series of white papers focused on marketing health insurance to large groups continues to drive impressive lead generation for the insurer month after month.
THOUGHT LEADERSHIP
This series of white papers was based on best practices for marketing health insurance to self-insured groups and effectively positioned Regence as a leader in topics and trends highly relevant to large group buyers and influencers.
LEAD GENERATION
The entire campaign was designed to optimize Regence's marketing efforts by driving interest from qualified leads. Each paper validated how the insurer's solutions can help control claims costs and improve the health of employee populations, especially at-risk individuals.
DATA-DRIVEN INSIGHTS
We collected and analyzed some of the most important information about industry trends, employer preferences, health insurance benefits and value-based care to develop this series of white papers on timely and topical issues relevant to self-insured groups.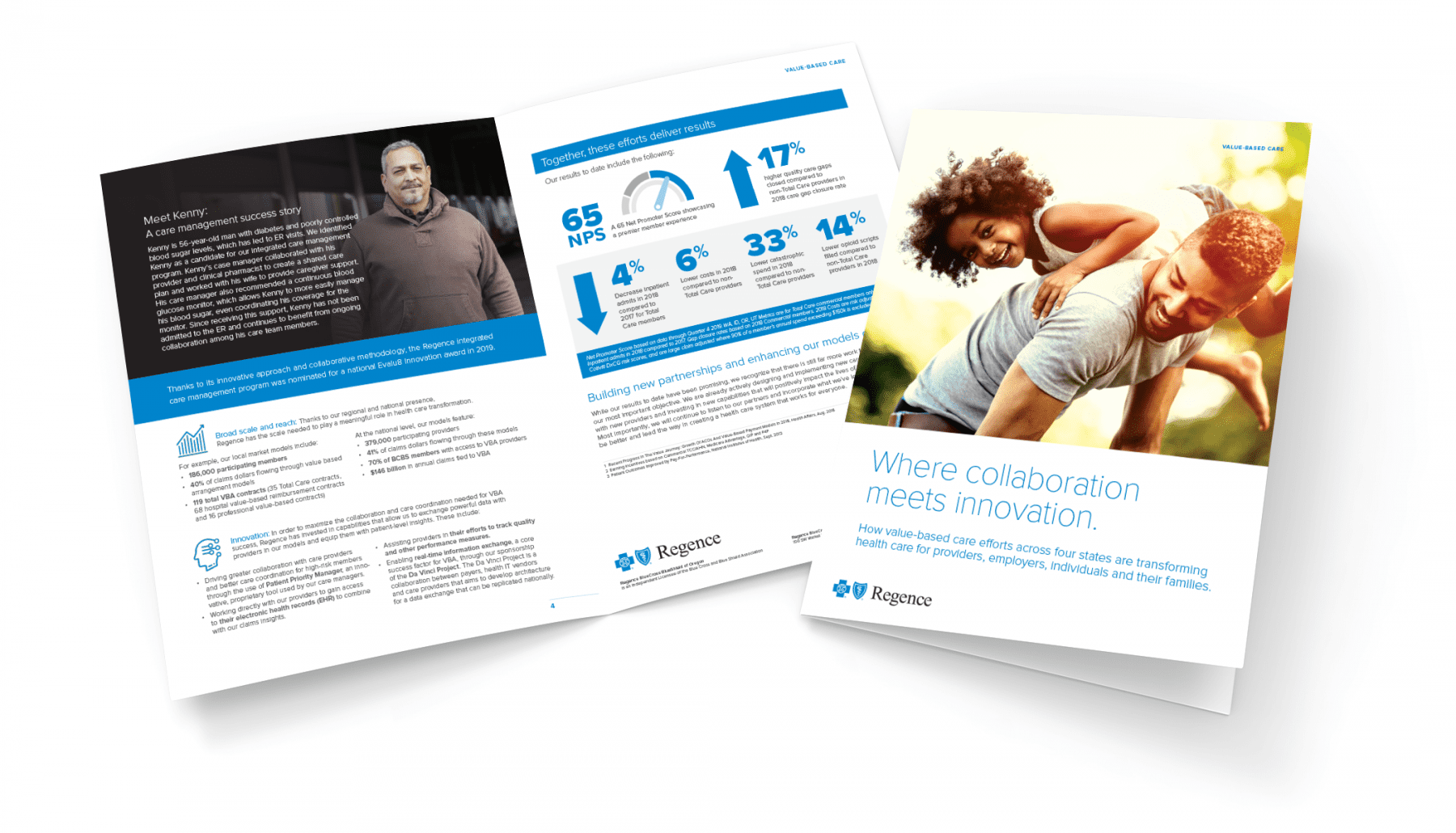 Health Insurance Marketing
Ready to find out how Activate Health can deliver similar results for your organization? Contact us to learn more.