Healthcare Marketing
AVELLA SPECIALTY PHARMACY
Healthcare marketing to physicians through a quarterly publication focused on clinical best practices in specialty medicine.
Reaching individuals at busy physician practices is no easy task but for the marketing team at Arizona-based Avella Specialty Pharmacy, engaging specialists is a top priority. To support these efforts, Activate Health undertook the development of a comprehensive physician publication that integrates with Avella's existing brand messaging and value proposition platform. This magazine-based format has included articles on the latest FDA approvals in specialty drugs, a focus on clinical specialties like oncology and ophthalmology as well as a description of 503B and 503A compounded drug development. It is a unique balance of marketing and editorial content that ensures maximum readability while advancing Avella's lead generation and nurturing goals. Each quarter a new issue is developed, often on a specific clinical theme such as the emerging oral oncolytics that are transforming cancer care or the upcoming specialty drugs in the pipeline.




Activate Health was tasked with managing this entire healthcare marketing project surrounding the development of Dispensing Excellence, including research, content development, creative direction and infographic design. As a result, Avella's own marketing team could focus on more immediate priorities, knowing that the physician marketing responsibilities of its team were in good hands. And in fact, Activate Health's writers have such a strong clinical understanding of even the most complex topics, that it has been simple and seamless for the team to secure executive and legal approval for all stories within this quarterly publication.
PHYSICIAN MARKETING
Marketing to physicians requires a combination of sound clinical knowledge, creative savvy and an ability to influence and inform very intelligent medical professionals in the most thought-provoking way.
THOUGHT LEADERSHIP
What's on the minds of today's oncologists? Just ask the researchers and healthcare marketing writers at Activate Health. Our team stays on top of the latest trends so we can position our client Avella Specialty Pharmacy's executives as thought leaders in their space.
CONTENT STRATEGY
Dispensing Excellence is just one piece of Avella's overall content marketing strategy, which also includes clinical white papers, email marketing and blog posts.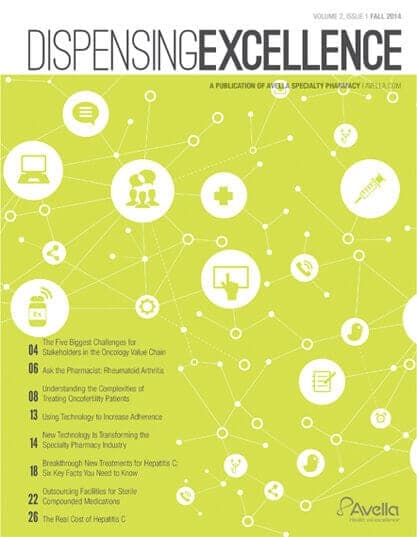 Ready to find out how Activate Health can deliver similar results for your organization? Contact us to learn more.