Health Insurance Marketing
REGENCE BLUECROSS
Empowering health insurance plan members to make informed care choices through an integrated  marketing campaign.
Effective health insurance marketing goes beyond traditional advertising efforts to sell these benefit plans to employers and consumers. It also requires a thoughtful approach to helping existing members make more informed care decisions. Regence BlueCross BlueShield, a four-state health insurance plan serving members in Oregon, Washington, Idaho and Utah, realized its members were struggling to understand many important insurance concepts like in-network utilization, generic drug savings and the value provided by ambulatory surgery centers. As a result, the organization turned to advertising agency Activate Health with a simple goal that required a complex execution—educate and empower members about these insurance topics, promoting health literacy while encouraging informed health care decision making. Our ability to execute effective health insurance marketing is based on years of experience in this space.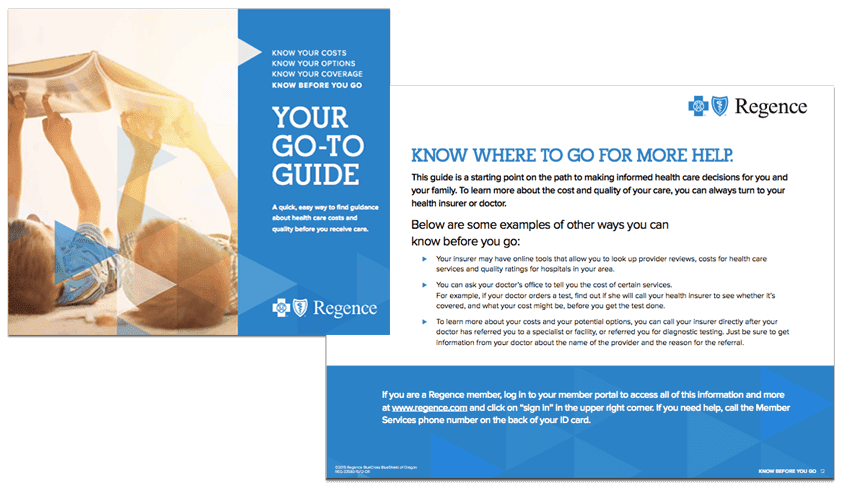 Once our approach was tested, Activate Health then implemented a wide variety of tactics including the development of web and print engagement materials, infographics, social media strategy, email marketing and a "Go To" fulfillment guide. All of these materials were branded under the Know Before You Go umbrella, which gave members the information they needed to know before seeing a physician, having surgery, or accessing treatment options and prescription drugs.
Based on the success of this campaign, Regence continues to brand its transparency efforts within the "Know Before You Go" health insurance marketing campaign. It has since expanded these efforts to include digital media. The Know Before You Go campaign was also shared with other Blue Plans through an interactive webinar. Activate Health continues to support the development of a wide variety of member marketing materials as part of this initiative to this day.
TARGETED INTERVENTIONS
Because most health plans focus on wellness messages in their health insurance marketing, which are less targeted and impactful, we encouraged Regence to tackle the most important issues that actually give consumers more options, better care, reduced costs and a more satisfying health care experience. For example, promoting the value of ambulatory surgery centers (ASCs) versus in-hospital stays for certain procedures was identified as a key topic for cost savings.
MARKETING PLAN
Foundational to Activate Health's approach was the development of a comprehensive health insurance marketing plan: a 15-page platform that drove all strategies, tactics and messaging. This plan delved into the unique opportunities and obstacles Regence would face in trying to communicate with its members. It also analyzed competitive offerings by other insurers, as well as third-party research revealing best practices in engaging health plan members.
MARKET RESEARCH
Activate Health implemented a member focus group as well as extensive web surveys, conducted in cooperation with the Customer Experience staff at Regence, to validate our assumptions. Knowledge gathered from these session and surveys was then incorporated into the health insurance marketing plan to further refine our strategic approach. We also A/B tested creative concepts for collateral and other marketing materials in these forums.
Ready to find out how Activate Health can deliver similar results for your organization? Contact us to learn more.