We've employed a modern take on branding, event management and marketing strategy for a leading health technology company aiming to "liberate" healthcare.
Activate Health partners with this leading health technology provider to help the organization build thought leadership while generating and nurturing leads through a variety of strategies—from event management to healthcare PR and social support.
Medecision offers data-driven population health and care management solutions serving a variety of leading commercial and Medicare Advantage health plans, health systems and Medicaid agencies. Its flagship Aerial product offers seamless interoperability, creating a single personal health record that integrates information from a variety of sources, including claims and encounter data. As a result, Aerial can help health plans better manage their populations by deploying actionable insights across the continuum of care—ensuring that each patient's care team (including care managers and providers) can access this information at the right time, in the right setting.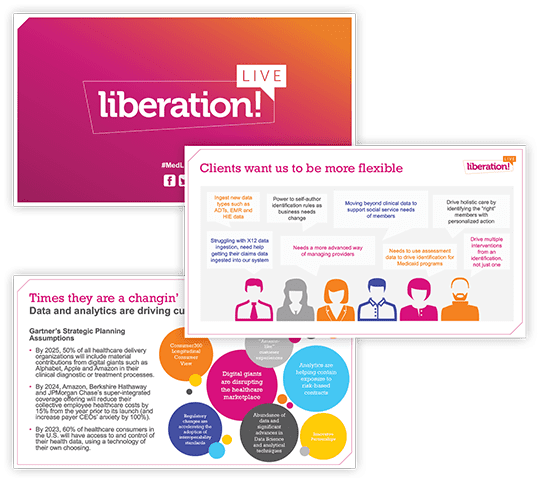 Medecision's lofty mission is to "liberate the healthcare system from costly, inefficient models of care delivery." In line with this aim, its annual Liberation conference is marketed to both clients and prospects across the industry and brings together some of the leading minds in healthcare. The event has grown steadily from a client event to an exclusive gathering of individuals that represent all aspects of this sector, including payers, health systems and health technology partners. Activate Health was engaged to help refresh the event from the ground up—ensuring that it truly conveyed the spirit of "Liberation" and that attendance rose steadily from the years prior through a mix of healthcare PR and marketing strategies.
BRANDING
Our creative team identified an opportunity to develop a new logo mark family for the main conference, as well as subsequent webinars and a brand journalism website also branded under the Liberation umbrella. This new brand family built on core elements of the Medecision and Aerial logos in a fresh, modern way to ensure that Liberation could also function as a standalone thought leadership brand.
MARKETING
Turning this branding into compelling marketing materials was equally important in order to ensure the success of the Liberation event. We developed various conference materials, including hundreds of presentation slides in a branded template, used by Liberation's keynote and supporting speakers. We also supported the development of new product sales sheets and signage.
HEALTHCARE PR
Finally, we provided healthcare PR, content marketing and social media support before, during and after the event to ensure that the conference reached as many industry influencers as possible. We also created nurture marketing strategies that would help Medecision convert leads gained from the event by "continuing the conversation" after Liberation 2019.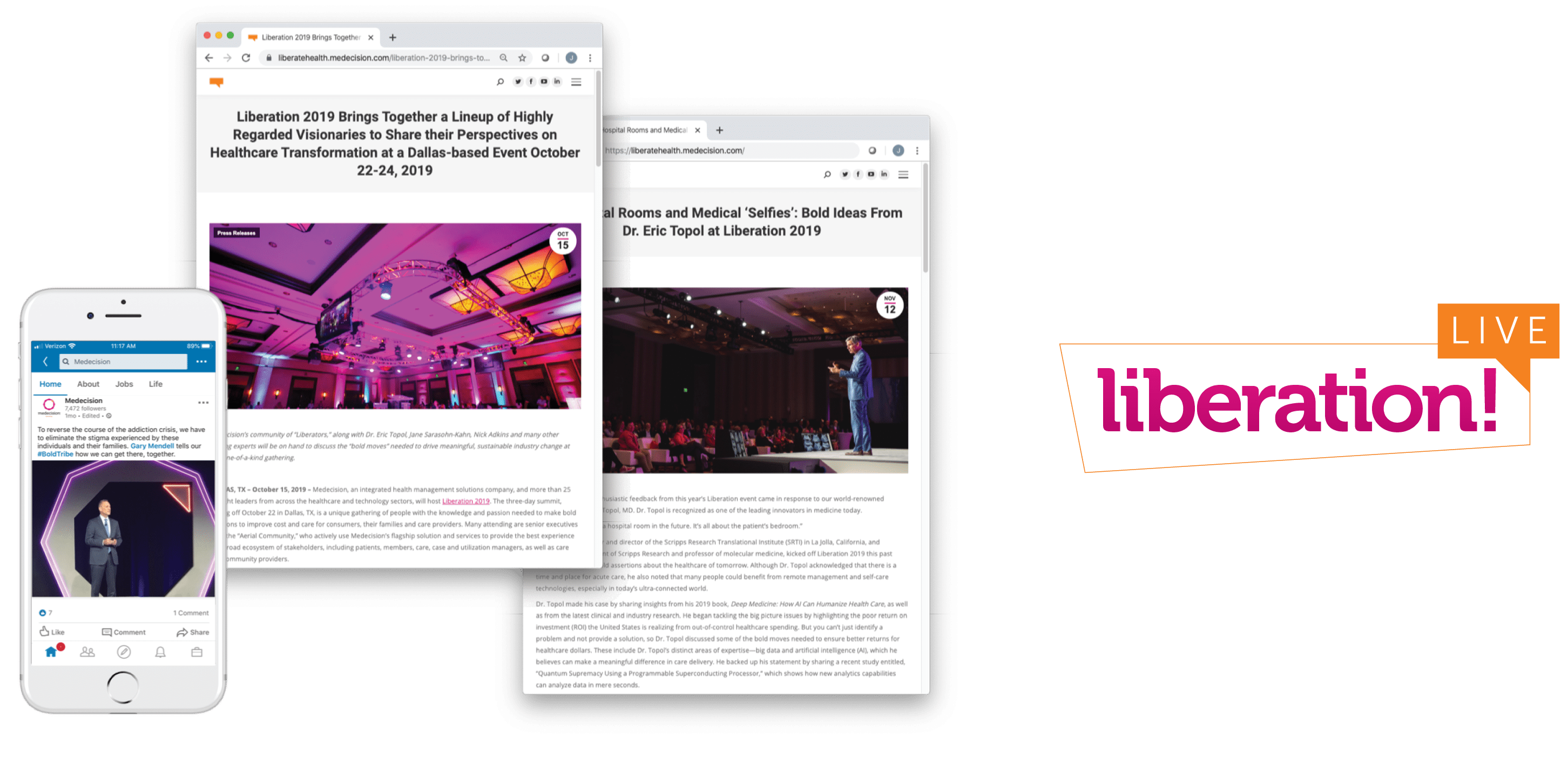 Ready to find out how Activate Health can deliver similar results for your organization? Contact us to learn more.