Health System Marketing
DIGNITY HEALTH
Showcasing "human kindness" through health system marketing efforts that emphasize a compassionate care model. 
Dignity Health is the 5th largest health system in the nation, serving patients across the Southwest through physician practices, award-winning hospitals and clinically integrated networks. After working with the Physician & Health System Marketing department at Dignity for nearly two years on a variety of advertising, marketing and digital marketing efforts, our contact came to us with an urgent problem. While the department had just lost a critical team member responsible for health system marketing to consumers and physicians, they were unprepared to replace her immediately due to budgetary restrictions on hiring. As a result, they were looking for ways to fill this role via both a short- and long-term solution through our agency. Our contact inquired whether our account team could work together to effectively take over this role and serve as an extension of the Physician & Health System Marketing department's team for several months.



Activate Health was tasked with the workload of a full-time staffer until a long-term replacement could be found. This required working with internal stakeholders, as well as key physician practices and clinics across the Bay Area. We not only managed internal efforts, taking on a challenging workload and gaining consensus around the Physician & Health System Marketing team's key initiatives, but our creative staff members also undertook the actual creative implementation. For example, we developed a variety of materials designed to extend the "Hello Humankindness" brand throughout Dignity's physician practices and clinics. A digital campaign promoting pediatric appointments was developed for some practices, and a direct mail campaign educated patients about the capabilities and "kindness" of Dignity Health's urgent care centers for others. Print ads announcing new doctors to the community were also developed, promoting the unique professional attributes of these doctors as well as information which gave a "personal touch" to these traditional health system marketing efforts. Our team also took on consistent production work related to business cards, mailers and other physician practice marketing needs. While the project requirements varied greatly, Activate Health was able to effectively staff up and leverage cross-training of existing resources to effectively manage even the most challenging workflow for this client. As a result, the Physician and Health System marketing team was able to focus on the most urgent business priorities tied to their performance, while we took on the heavy lifting of their day-to-day marketing efforts. 
BRANDING
Undertaking creative projects that aligned with the award-winning Hello Humankindness campaign required a strong understanding of not just the brand's visual standards, but also the meaning of the entire brand philosophy, as this impacted the style, tone and authenticity of all content.
STRATEGIC CONSULTING
Activate Health is more than just an agency—we take on our client's most significant marketing challenges, whether that means streamlining their workflow, supplementing their staff or working together as part of their team. This engagement for Dignity's Physician & Health System Marketing team showcased these capabilities.
CREATIVE EXECUTION
Activate Health played an integral role in all of the big and small aspects of marketing management for this initiative, from quality assurance to production design. Most importantly, our creative team ensured that every tactic aligned with the overarching brand strategy.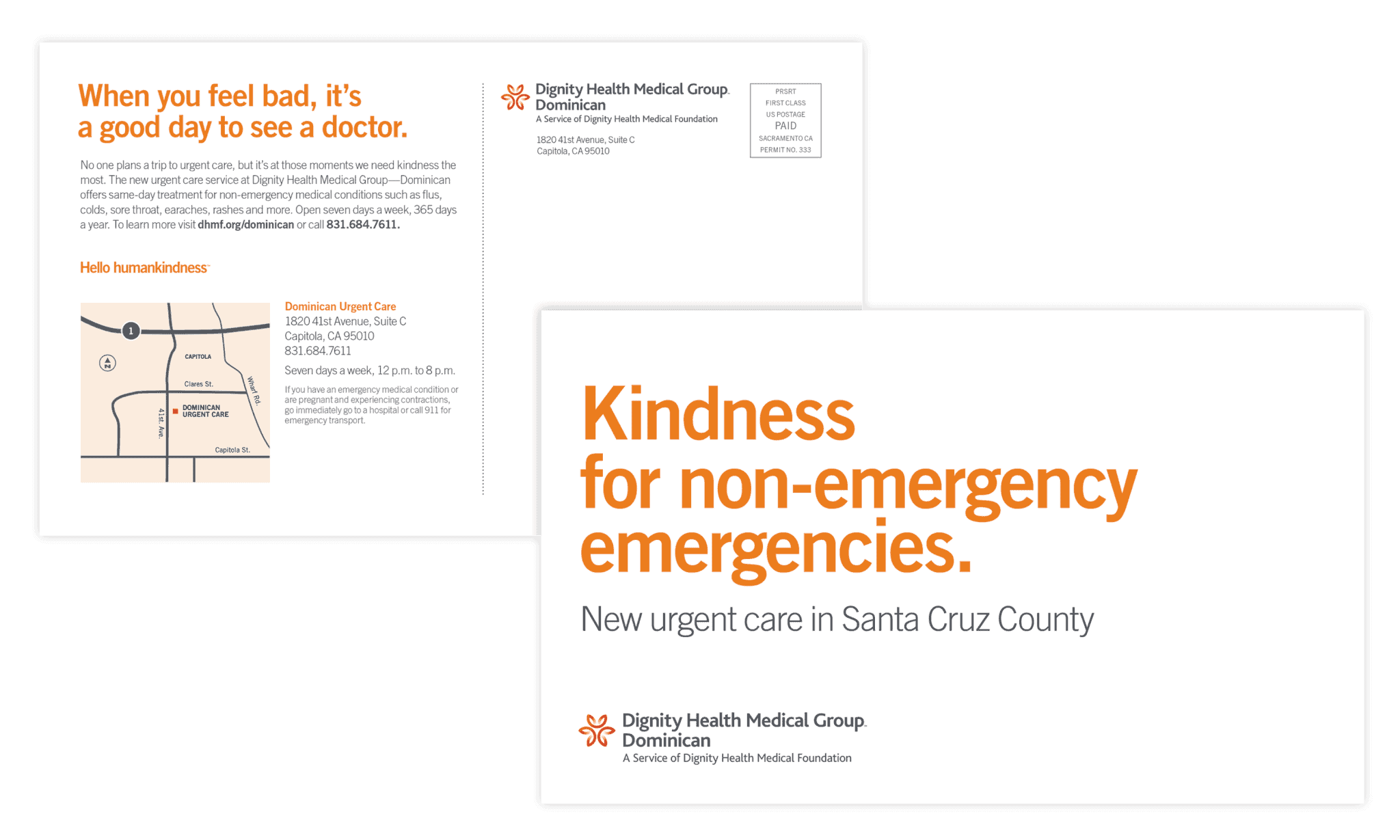 Ready to find out how Activate Health can deliver similar results for your organization? Contact us to learn more.