Acquisition Communications
LTCG
Developing a branding and acquisition communications approach to support the purchase of an insurance administrator.
The healthcare and insurance sectors are being completely transformed by extensive M&A activity, which in turn has driven a flurry of rebranding and needs for acquisition communications. Unfortunately, some executives overlook the importance of the latter, believing that a press release will be adequate for announcing these events, especially if they have not managed a large reorganization before. All too often this release gets lost in the high-volume media mix and clients, partners and prospects are literally the last to know about these important events. Instead, a comprehensive acquisition communications plan should always be developed in order to carefully and strategically detail the right mix of outreach for external and internal stakeholders, from managers and employees, to prospects, clients, partners, vendors and board members.
That's precisely the approach Activate Health implemented for its client LTCG, which was purchased by a Private Equity firm in 2014, allowing it to return to its former independence as a standalone insurance administrator. (It had previously been acquired by a national accountable home care company). That acquisition brought with it its own set of challenges, as service levels dropped and the company lost several key clients during this time period, which had to be considered in acquisition communications for employees, prospects and clients alike.
The acquisition communications plan developed by Activate Health helped LTCG better convey the benefits of this sale to existing employees while addressing their fears around redundancies and layoff. It also acknowledged the company's previous M&A history as well as the advantages that would be realized by buyers and customers. This plan included the precise cadence that these communications should be implemented to ensure that individuals were hearing about the event at the right time and in the right priority. And it included all of the key messages that should be conveyed throughout every medium–emails, manager talking points, Town Hall scripts, and external acquisition communications like press releases.
Of course, acquisition communications are just the beginning of our M&A support. In many cases, rebranding plans must be developed as the result of this activity. In this case, LTCG needed a completely new standalone brand that communicated its independence and aligned with its position as a leader in the long term care insurance space. This new identity then needed to be quickly implemented across a variety of materials, from business cards to brochures, signage to T-shirts.


Marketing & Sales Collateral

This sales support piece below is just one example of an output from the extensive rebranding and acquisition communications campaign executed on by Activate Health. Other materials included new sales presentations, product materials and PR efforts including press releases and authored articles discussing the acquisition and the new brand that resulted from it. The entire soup-to-nuts initiative was implemented in less than 60 days, and included the acquisition communications designed to ease the transition for LTCG's own employees and announce the acquisition to LTCG's customers, leading life and long term care insurance carriers.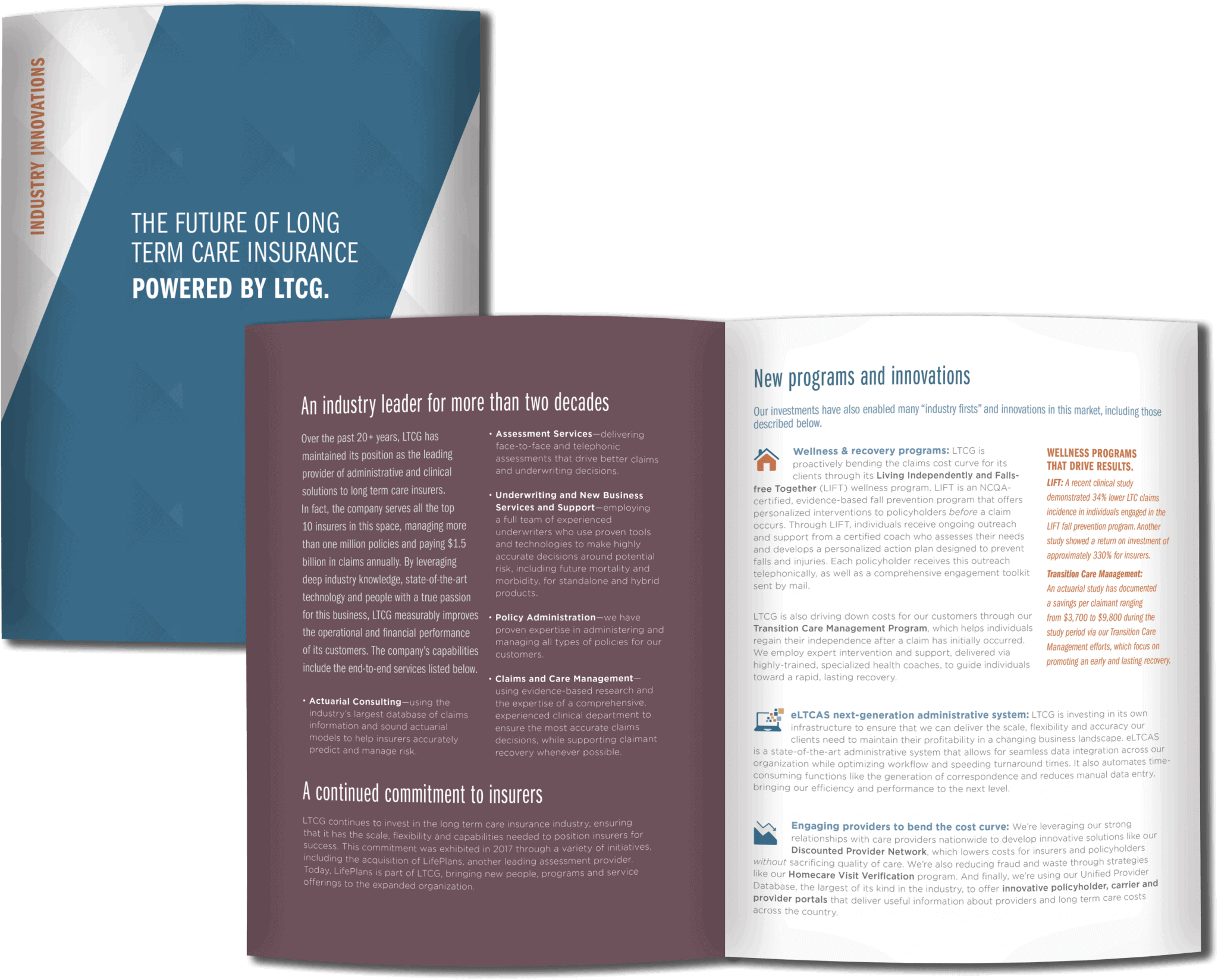 Ready to find out how Activate Health can deliver similar results for your organization? Contact us to learn more.